Scroll
Strategies for Business Management
Business Matters
Creating a workplace environment that prioritizes employee wellness matters. This page offers tips and strategies that will help your practice reach its goals while supporting employee health, wellness, and growth.
Be Mindful of Others' Wellness
Your colleagues may be experiencing mental health challenges, yet still be functioning well. It's important to recognize that individuals have different needs and stressors. Veterinarians at different stages of life and career also face unique challenges.
Make sure your team members are aware that there are self-assessment tools and resources available:
This tool, from the Canadian Mental Health Association, offers a general check-in of how you're doing.
Professional Quality of Life Assessment
The American Veterinary Medical Association created this tool for assessing yourself for burnout and compassion fatigue.
The Mood Disorder Association of Ontario offers this simple tool to self-screen for anxiety, depression, or other mood disorders.
You can also use a tracking program or diary to monitor and understand your own mental health. Here are a few great tools to get you started:
Increase your own awareness to recognize the signs of distress in your team: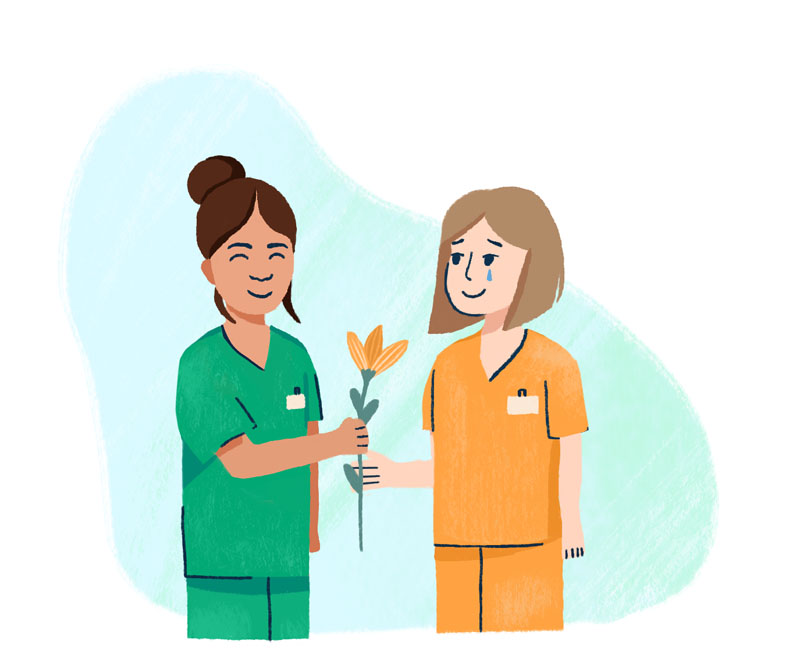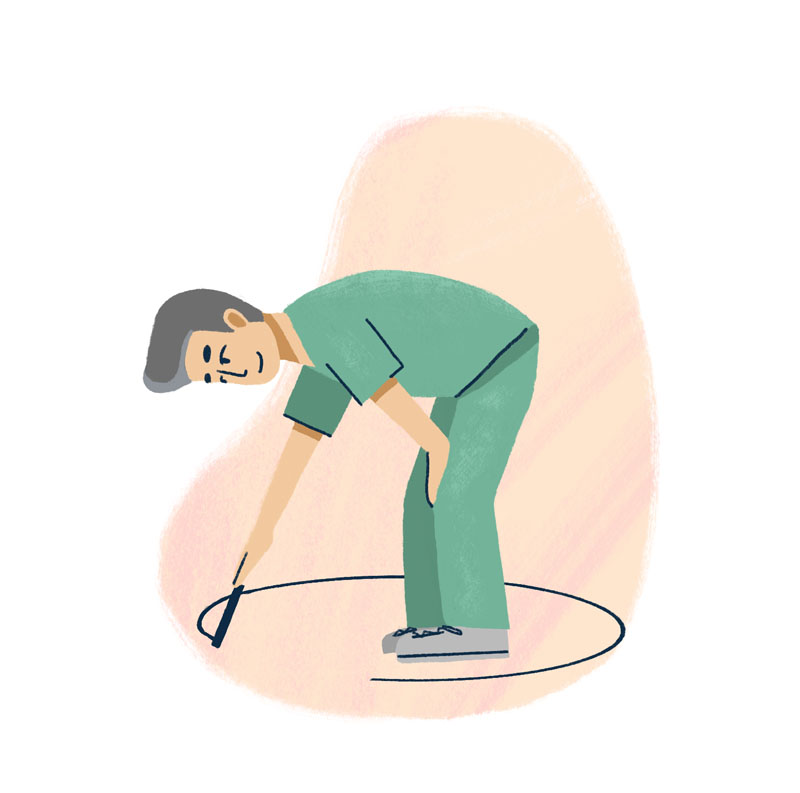 Establish and Maintain Boundaries For Yourself and For the Team
It's important to protect down-time/off hours and discuss it with the team to ensure everyone is aware of when you are available and when you are taking time for yourself. Record overtime for hourly and salaried employees to ensure that extra hours are being shouldered equally across the team. Ensure one team member is not consistently covering for others and that everyone has a role in helping cover or trade shifts when things come up. Have a formal policy regarding sick or personal days, and have a plan for coverage when needed. You should not feel guilty for taking time to care for yourself, nor should your employees.
It is also important for workplaces to create moral boundaries2. Discuss the situations and/or procedures you are not comfortable with and plan accordingly with your staff to minimize ethical conflict.
Tips for setting and maintaining boundaries:
Team Management
There are many layers to team management, so let's peel back a few of the important ones that can contribute to mental wellness.
Team meetings
Provide an opportunity for everyone to give feedback, and build a culture of collegiality. Develop a psychologically safe work environment where team members can share thoughts, ideas, and opinions without fear of embarrassment or repercussion. Set a schedule for everyone in the team, or specific groups within the team, to meet on a regular basis. Stick to it to keep lines of communication open and ensure staff have the opportunity to bring up issues or concerns they have in a timely manner.
Rounds
Provide time for veterinarians and team members to discuss ongoing cases, or transfer cases between shifts to ensure continuity of care. Debrief after a difficult case or client interaction to discuss what went well and what could have been done differently. Take the time needed to make sure everyone is on the same page and that patients and staff are adequately supported! Consistent communication can only serve to improve team interactions and patient and client care.
Debrief
Ask your team members directly about feelings of burnout. Be specific and allow for frank and open discussion. How are they managing the current schedule? Is everyone able to take breaks? Is help available for difficult patients? Getting sincere answers to these questions will enable you to respond with tailored solutions to build your team up and prevent losses.
Reward with experiences
Provide rewarding experiences such as continuing education, advancement opportunities, and simple thank-yous. These types of rewards can sometimes be as effective as cash bonuses and pay raises4; it will make your team feel valued and build confidence. It also demonstrates that you are invested in their growth.
Consider team efficiency
Staff efficiency can be a huge contributor to stress and anxiety. One area of veterinary practice where efficiency can often be gained is the use of Registered Veterinary Technicians. Work with your veterinarians and technicians to establish clear roles and expectations, and look for feedback on what more your technicians can do to support your team. There is considerable value in this! Check out some recent work from the Ontario Association of Veterinary Technicians on the value that registered veterinary technicians bring to Ontario companion animal practices; here is an infographic from that study.
Manage conflict
From avoiding conflict to accommodating, compromising, or competing; there are many different strategies and techniques to dealing with conflict. Some keys are to acknowledge the problem, be sure you do not dismiss the person or issue being raised. Focus on the problem itself, not the individual, and do your best to stay neutral (if the issue does not involve you). Be patient, but decisive; commit to an action, even if that action is that you will investigate the issue more closely. Look for common ground where possible, and be sure to follow up with the team members involved.
As an employer you would likely benefit from formal training in conflict management. This can help with both internal team conflicts, as well as with clients.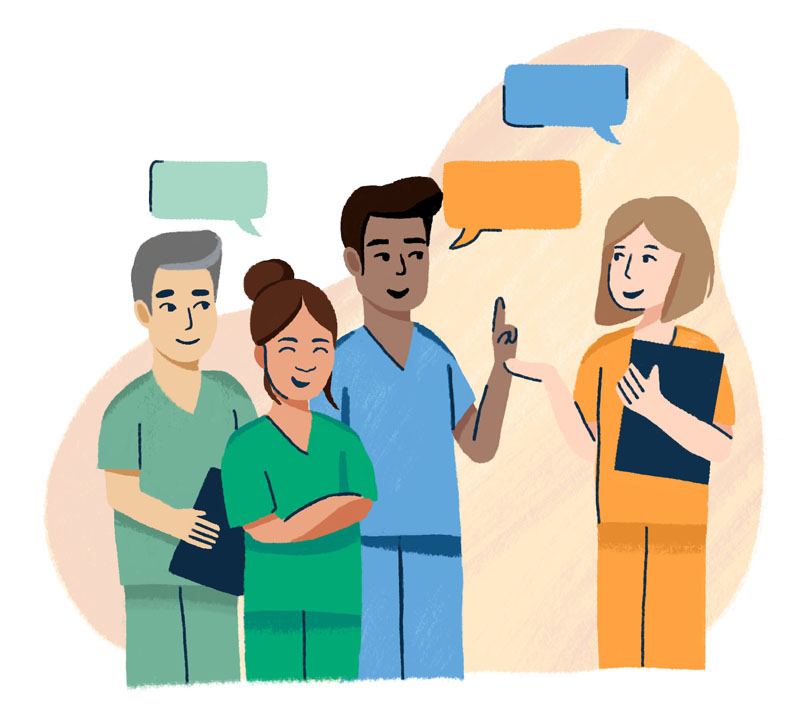 For more information:
Interested in an Ontario veterinarian's perspective on this topic?
Check out this podcast featuring Dr. Sue Dorland – Building an Excellent Business Starts With Building the Best Team.
Healthy Staff = Healthy Business
The mental health of the veterinary team greatly impacts your practice and the quality of care provided to clients and patients. Client satisfaction and communication are major drivers of clinic profit. When your team members are happy, productive, appreciated, and valued, they will strive to do their best work, which will be reflected in patient and client care.
Business impacts of burnout include:
Increased staff turnover9
High number of sick leave/sick days
Reduced staff productivity
Poor client communication
Reduced client satisfaction
Reduced level of patient care10
So what can you do? Here are a few suggestions:
Create a workplace well-being program
This is a set of policies, procedures, and practices that you and your team agree to in an effort to develop and maintain a culture of well-being in your practice. Check out this resource from the American Veterinary Medical Association on Setting Up a Workplace well-being Program.
The OVMA's Member Assistance Program offers a number of services (e.g. counseling), which can also be extended to staff at a reasonable cost. Visit https://www.ovma.org/veterinarians/your-well-being/ for more information.
Promote physical health
Have snacks & beverages available for staff, especially when scheduling conflicts with regular breaks. Make lunch breaks a goal; this can help to ensure appointments and staffing are scheduled appropriately to prevent this from becoming an ongoing issue. Consider tracking how many are missed to identify those who may need a break. Having a schedule visible to all may also help colleagues be aware of when others are entitled to a break. Encourage your team members to push one another to take their scheduled breaks!
Prioritize safety and well-being
Veterinarians and veterinary staff have a very high rate of occupational injuries and illnesses. Make well-being the new normal. As a profession, we have normalized long hours, prioritizing client and patient care over staff time and health, and having a poor work-life balance. Medical professionals are often reluctant to admit a problem, or to seek help6. Challenge assumptions about what the job entails, and lead by example.
Establish psychological safety
Give your staff the freedom to try new tasks, make mistakes, and be vulnerable without fear of criticism, embarrassment, or punishment. This will foster solution-oriented, mutually beneficial resolution to conflict at all levels. They will be more productive and engaged when they have the freedom to take risks and try new things without fear of seeming incompetent or being punished. This allows for personal growth, resilience, motivation, and cooperation. This also motivates team members to ask for help, and accept help, and improve their workplace.
Reduce Ethical Conflict
Evidence-based, welfare-friendly medical protocols can build trust between staff members and reduce disputes or tension when managing cases. A starting point may be to check out some of the excellent protocols already available:
"Fear Free" techniques help manage aggressive or anxious patients, and improve safety for the whole team: Fear Free Pets
"Cat Friendly" techniques reduce stress for cats, owners, and staff: Cat Friendly Practices
The American Animal Hospital Association provides guidelines for a variety of treatments and procedures, all developed by veterinary experts in the relevant field: What are AAHA Guidelines?
Insurance. Promoting pet insurance can reduce ethical conflicts with clients, as well as within the team. The majority of small animal practitioners feel that client economic limitations affect their ability to provide the desired care for their patients on a daily basis11. At the same time, only ¼ – ⅓ routinely discuss costs and pet insurance at healthy pet appointments8. Ask every new puppy or kitten owner if they've considered pet insurance. You can also delegate the discussion — front desk can ask clients if their pet is insured, as they arrive for their appointment.
Rescue policy. Have a clinic policy regarding rescue cases. For example, set up an Angel Fund, or allow each staff member a small budget towards a case that pulls at their heartstrings as part of their benefits package.
Euthanasia policy. Discuss euthanasia policies12 and criteria openly with all staff (veterinarians, technicians, assistants, reception) — these cases are often a source of strong emotion in the team13. Although the staff should not necessarily question the decision of the client & veterinarian, a frank discussion (at a team meeting, for example) about policies can go a long way toward reducing moral stress and building trust. In a psychologically safe environment, team members can speak up and ask questions about situations that do not align with their values.
Social Media: Don't be scared, be prepared
We all get negative feedback, but when provided publicly it can be particularly challenging. See our notes above about dealing with negative feedback. The OVMA has prepared a Social Media Response Toolkit, which outlines best practices and guidelines for preparing a social media strategy/policy for your clinic.
References
Burton, Christopher, Catriona Matheson, Terry Porteous, Alison M Elliott, Lisa Iversen, Helen D Robertson, and Peter Murchie. 2016. "Resilience of Primary Healthcare Professionals: A Systematic Review." British Journal of General Practice 66 (647): e423–33. https://doi.org/10.3399/bjgp16x685261.
Morgan, Carol A, and Michael McDonald. 2007. "Ethical Dilemmas in Veterinary Medicine." The Veterinary Clinics of North America. Small Animal Practice 37 (1): 165–79; abstract x. https://doi.org/10.1016/j.cvsm.2006.09.008.
Bartram DJ, Sinclair JMA, Baldwin OS. Interventions with potential to improve the mental health and well-being of UK veterinary surgeons. Vet Rec 2010;166:518–23.
Hayes, Galina M., Denise F. LaLonde-Paul, Jennifer L Perret, Andrea Steele, Marina McConkey, William G. Lane, Rosalind J. Kopp, Hannah K. Stone, Andria Jones-Bitton. 2019. "Investigation of burnout syndrome and associations with job-related risk factors in veterinary technicians working in specialty teaching hospital settings: a multi-center cross-sectional study." https://onlinelibrary.wiley.com/doi/full/10.1111/vec.12916?af=R
Nienhaus A, Skudlik C, Seidler A. Work-related accidents and occupational diseases in veterinarians and their staff. Int Arch Occup Environ Health 2005;78:230–8.
Bartram, David J., and David S. Baldwin. 2010. "Veterinary Surgeons and Suicide: A Structured Review of Possible Influences on Increased Risk." Veterinary Record 166 (13): 388–97. https://doi.org/10.1136/vr.b4794.
Moses L, Malowney MJ, Wesley Boyd J. Ethical conflict and moral distress in veterinary practice: a survey of North American veterinarians. J Vet Intern Med 2018;32:2115–22.
Cron, William L, John V Slocum, David B Goodnight, and John O Volk. 1998. "JAVMA Executive Summary: Impact of Management Practices and Business Behaviors on Small Animal Veterinarians' Incomes." Journal of the American Veterinary Medical Association 215: 161–83.
Moore, Irene C, Jason B Coe, Cindy L Adams, Peter D Conlon, and Jan M Sargeant. 2014. "The Role of Veterinary Team Effectiveness in Job Satisfaction and Burnout in Companion Animal Veterinary Clinics." Journal of the American Veterinary Medical Association 245 (5): 513–24. https://doi.org/10.2460/javma.245.5.513
Ruby, Kathleen L., and Richard M. DeBowes. 2007. "The Veterinary Health Care Team: Going from Good to Great." Veterinary Clinics of North America – Small Animal Practice. Elsevier Inc. https://doi.org/10.1016/j.cvsm.2006.10.004
Kipperman, Barry S, Philip H Kass, and Mark Rishniw. 2017. "Factors That Influence Small Animal Veterinarians' Opinions and Actions Regarding Cost of Care and Effects of Economic Limitations on Patient Care and Outcome and Professional Career Satisfaction and Burnout." Journal of the American Veterinary Medical Association 250 (7): 785–94.
Rollin BE. Euthanasia, moral stress, and chronic Illness in veterinary medicine. Vet Clin North Am – Small Anim Pract. 2011;41:651–9.
Scotney RL, McLaughlin D, Keates HL. A systematic review of the effects of euthanasia and occupational stress in personnel working with animals in animal shelters, veterinary clinics, and biomedical research facilities. J Am Vet Med Assoc 2015;247:1121–30.